Indian Wedding Photographers
We became known as specialists in Indian wedding photography around 2005. It all started with our banker's son's wedding, our first foray into the Dallas Indian wedding market.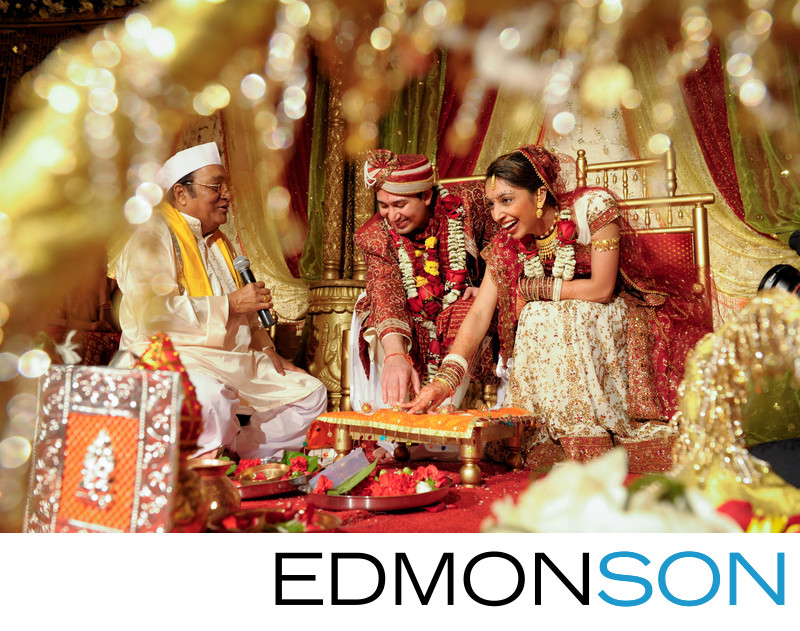 We still laugh together about watching Bend It Like Beckham, Monsoon Wedding and the uncut version of their cousin's 6 hour wedding video as primers. One of David's photos appeared in DWeddings and word started to spread. Talk to anyone in the community and you know that once you get "in" things really can take off.
A few years later, we found ourselves in New Delhi, India at the Jaypee Vasant Continental capturing his sister's wedding, and that deepen our understanding. Often described as grand, colorful affairs, the fact that we are outsiders gives us greater ability to capture meaningful photos that not everyone can. Being outsiders means we aren't expected to know all the nuances and social expectations - but we do!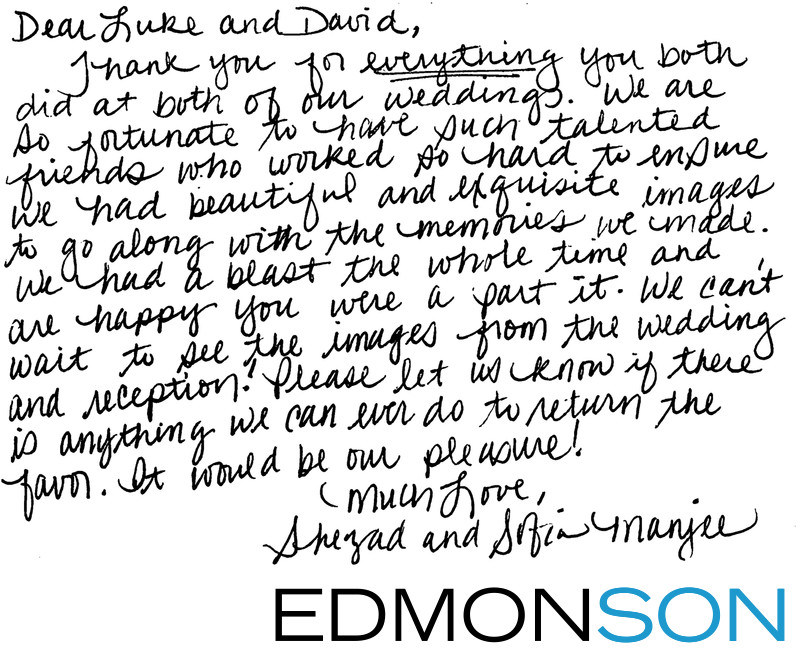 South Asian Wedding Photography
No two weddings are ever the same, even if you are from the same religion, region or even city. We have experience shooting Hindu Weddings, Muslim Weddings, Sikh Weddings, Christian Orthodox Weddings, Catholic Weddings, and Jain Weddings.
Fusion weddings, where someone from outside the community is marrying in, are becoming more popular as the next generation of Indian brides comes of age. It's a joy to see the merging of different faiths, cultures, and family traditions.
Beyond religious there can be regional and sub-regional differences. We are familiar with the nuances of North Indian weddings like Punjabi's, Sikh's & Gujarati's as well as South Indian Weddings like Telegu, Tamil, Malayali and Sinhalese. We are also accustomed to Ismaili & Pakistani weddings to the West and Bengali weddings to the East.
Getting a quote for your indian wedding
A common inquiry we receive starts with, "I'm planning my Indian wedding. Can we get a quote for your services?" We totally understand that question; however, our quotes are customized based on your needs and desires. Our pricing page shares our starting prices, and we can go into even more detail with you if we have availability on your date.
We offer wedding day commissions that range from 8 hours, 12 hours of coverage or unlimited. The pricing for additional pre-wedding events or more wedding day coverage is hourly.
To provide the most accurate quote some helpful details to include when you check in with us are:
Religious Ceremony
Here is why: Hindu wedding generally are 12 hours of wedding day coverage or more. Muslim marriages (Nikkah & Reception only) are around 8. Indian Catholic and Orthodox Christian unions are usually 12 hours. Double ceremony Fusion weddings typically require greater than 12 hours on the wedding day. Knowing your religious ceremony type helps us provide the most appropriate recommendations for you.
Location
In the largest ballrooms of the finest DFW hotels is where you find most Dallas Indian weddings. Our familiarity with venues informs us as to how many photographers to recommend. Due to timing or long distances you might consider building a larger team.
One in the bride's suite, another capturing ceremony details and a third or more documenting the festive arrival of your jaan. The physical layout of the venue can influence our recommendations for you to consider.
Guest Count
Small is around 300-400, Normal 500-600, and Large 800 or above. You may not want a photographer to cover all of your guests but we can include in our quote what it would take to do so. Just ask us. Many families enjoy having a dedicated Cocktail & Candid photographer shooting during the Reception.
Indian Group
Sikh ceremonies are in the morning, Telegu parents want you to receive and an hour's worth of blessings before starting formal portraits, Ismaili Pithi's are legendary, Gujarati's will want Garba covered at least until Dandiya Raas starts, Orthodox Christians gather in prayer before departing to the church. Different groups have different expected needs, and we get that. Knowing what kind of wedding you are having helps us anticipate expected questions.
Additional Events
In general terms, we provide coverage options for Mehendi, Pooja, Pithi, Garba, Sangeet, Rehearsal Dinners, etc. The questions we have is, can a single photographer sufficiently perform the duties? Due to timing, logistics, locations or caliber of the event, there are times when more than one photographer is most appropriate.
Most brides include in their e-mail the total number of hours they are looking for a quote. While useful, it's not perfect.
Yes, there ultimately will be a total number of hours of coverage.
When we understand what it will take to cover your pre-wedding events we can include options for simultaneous or multi-location coverage.
An example is morning puja's at the bride's and groom's houses.
It also helps to know how important that coverage is to you. David & myself have the most expertise, and it's reflected in our pricing. Is it an appropriate event for someone else on our team to cover?
Another example is Sangeet coverage. While usually 3 to 4 hours, is one or more photographers most appropriate for your needs and family desires. We can scale our team however you like.
The date of the event(s) can also be a factor if they fall on major holidays.
Recapping What To Include In Your Inquiry
Including your wedding date(s), any additional events, locations, anticipated guest count, and religious ceremony type helps us provide the most accurate estimate of our wedding photography coverage.
You can also include how many photographers you'd like for different events. In our quote, we will provide you with various coverage levels for your consideration.
Indian Wedding Overview
We love the strong emphasis that Indian and South Asian cultures place on families. In fact, if you speak Hindi, we hope that you are calling me Luke Bhai and David becomes like one of your beloved Uncles.
Our outsider's perspective with insider knowledge allows us to not only be in the right place at the right time but also showcase the fullness of your loved one's personalities. As experts, we know that photos alone documents but showing the beauty of your connections is what's paramount to us. We visualize our Indian storytelling the same way we approach everything we do.
Inviting us to be a part of your wedding means you desire something more in your wedding photography. You are looking for a specialist. Let's explore how we can do that for you.
Hindu Weddings
Here is a short overview of the types of wedding photos we like to capture at a Hindu wedding.
Wedding Details
Tell anyone else that your Father is sending you for a month to a foreign country to shop for wedding dresses and jewelry and they'd be ultra jealous. The reality is, it's not easy. With all that you've invested in your planning, we get that you want to look it's best. We seek to add depth to your details.
Getting Ready
Documentary style wedding photographers can be good at what they do. Some market the idea that the purity or authenticity is somehow ideal. Capturing moments as they unfold is good, but there is something even better.
Ask yourself, how many people naturally look good all of the time in all situations? It's better when you trust your photographer to be your mirror.
As experience professionals, we use intentionality, attention to detail, vision and the power of our voice. Beyond documenting, we create when needed, simplify scenes for impact, direct and refine before we click the shutter. Most importantly, we shoot with empathy, seeing you through the eyes of your loved ones.
Intimate Family Portraits
Your Mother and Father love you. Perhaps they show it best behind closed doors in the privacy of their own home. While the typical family photo captures who is in it, there is an opportunity to communicate your love. Tender blessings from mothers, a father's loving look or gentle embrace, playful interchanges between siblings are all possible when out of the public arena.
You will spend more of your life with these precious people than anyone else. Let's make time to capture them in a beautiful and honoring way.
Baraat
From fancy cars to horses and carriages, and even elephants, once the dhol player hits his first beat the magic begins. It's a wedding photojournalists dream and one of your signature events.
While a Punjabi groom needs no encouragement to be the star of the show, other's aren't quite as use to the limelight. Introvert or extrovert, we make sure the groom looks heroic in his photos. Adding more photographers provides additional vantage points and coverage of the bride's families reactions.
Jaan Arrival
Starting with garland exchanges, mother's blessings and the playful games that unfold, the crush of the crowd means thinking quick on your feet. Within the hustle and bustle, we are anticipating a Gujarati mother to grabbing a nose, the groom breaking the ceremonial pot and the family processing together for the start of the ceremony.
Ganesh Puja
The special moments on the Mandap as the groom is alone with the parents and priest are often overlooked. As the bride's parents take the lead, a beautiful moment unfolds before the bride makes her entrance. The puja removes all obstacles to the marriage preparing the way for the new couple's life together.
Ceremony
The bride arrives walking or carried, alone, accompanied by bridesmaids, with her uncles or escorted by her parents. A white cloth prevents the couple from seeing each other while joining their hands.
After it drops, exchanging garlands shows acceptance to become husband and wife. Then comes that special moment a Father gives his daughter away through the pouring of water and placement of hands. Tying a knot signifies the eternal bond of marriage.
Lighting the sacred fire and reciting Sanskrit mantras emphasizes the selflessness needed in marriage. The ring exchange and vows unite the couple, acting as an outward sign of their commitments as husband and wife.
Walking around the sacred fire is the symbolic representation of the willingness of the bride to overcome any obstacles. After the bride leads initially, the groom leads on the final pass. The crowd erupts as we all watch to see who sits down first. The understood meaning suggests who has the upper hand in the marriage.
Using sindoor marks the bride as a married woman leading the way for them to perform the Saptapadi. Stronger than a marriage license, the 7 steps is considered the official recognition of the matrimony. The mangala sootra (necklace) around the bride's neck is the traditional symbol of the union, love, and commitment.
After Ceremony
The family blessings begin. After honoring their parents and the priest then any number of things might happen. Telegu's enjoy playful games with rice; the traditional Vidhi may occur right away, or formal portraits might begin. While some customarily invite every guest to bless the couple as they sit in front of the mandap, this is a very time-consuming process that eats away at your schedule.
Occasionally, brides hire us to travel with them to the mandir for an another ceremony or the groom's family wants to perform one more in their hotel room. We certainly understand the significance, not every bride includes these events in their coverage.
Family Formals
Experience guides us in the best practices for efficiency. In Fusion weddings, where an earlier ceremony has occurred, time constraints mean scheduling and organization are critical. During this time, we do our best to work quickly and minimize the visual background clutter. We also watch your overall energy level since you haven't broken your fast.
Bride & Groom Portraits
You might consider two outfits for Bride and Groom portrait opportunities. Some couples are adopting a western style first look or sneaking in private photos before the baraat. This approach is the ideal way to capture signature portraits in your wedding attire. It means you look your freshest and have the most energy. Another option is after the family formals, but emotionally most couples are spent after fasting, lack of sleep and family formals. As you can imagine, the markings from sindoor, rice in your hair or crying from vidhi does reflect in the photos.
Another great occasion is wandering the venue grounds or using a hotel suite for some signature portraits together in your reception clothing. During dinner, we can sneak off for short nighttime portrait if desired. Most couples enjoy their reception portrait session because you feel connected, rested and refreshed. Your new hair, makeup, and clothes mean you are looking your best once again.
Room Shots
Timing room shots is an art to itself. During set-ups, we capture details of the mandap, florals, reception decor, etc. After everything is in place, we need a few minutes with the room cleared of people to capture the spectacular setting. Having a dedicated details and decor photographer working inside is a best practice. Another is dedicating photographer(s) to family reception portraits or candid cocktail coverage.
Programs & Performances
After your grand entrance, the program begins. Full of speeches, toasts, and performances, your friends and loved ones entertain, honor, and laugh together. Let's all hope that 'favorite" uncle doesn't grab the mic and start thanking each person who traveled far and wide. We can dedicate photographers for table shots as needed.
Dancing
Time to screw in a lightbulb and turn a doorknob. Now that the dinner is over, the celebration begins, and no one does it better than South Asians. As the DJ works their magic, we catch the moments happening all around waiting for that glorious moment the groomsmen lift you up delighting the crowd.
Hindu Wedding Pre-Events
Mehndi
Beyond the stunning henna, there is so much anticipation and joy as your festivities kick-off. Family members are in town and reconnecting, excitement is in the air, and it's time for the groom to feed you or sit on a swing together. Aunties gather to sing songs and laugh while the men enjoy their drinks. It's a memorable occasion and worth capturing.
Puja/Pithi
These ceremonies prepare the couple for marriage, with two separate components. The religious ritual involves the bride or groom, their immediate family, and some extended family members. Punjabi brides have their bangles placed and covered while Gujarati women perform a custom with pots on their heads outside. Pithi purifies the bride and groom through the application of a paste. Each step represents a photographic opportunity to capture on your journey to marriage.
Garba/Sangeet
Unique to Gujarati's, Garba starts with the lighting of a candle indicating it's time for Raas. Afterward, Dandiya or dancing with sticks quickly separates the 5 step beginners from the 12 step experts.
In a similar way, Sangeet is for everyone else. Both occur the night before the wedding day including dinner, programs, and dancing.
Frequently Asked Questions
We've answered even more questions in our FAQ. If there is something we haven't addressed, we are happy to. Give us a call, shoot an e-mail or wait for your consultation, whenever the timing is right for you.
DFW Indian Vendors
Check out our trusted vendors in the DFW area. From Mehendi artists, Decor, and DJ's, these people are the best at what they do.
Every wedding starts with an invitation. We invite you to look through our galleries, learn more about who we are and contact us to check availability. We love the South Asian community and the relationships we've made. We look forward to meeting you soon.
Copyright 2002-2020 David & Luke Edmonson All Rights Reserved.
All photographs and content appearing on this site are the property of the Edmonson's. They are protected by U.S. Copyright Laws, and are not to be downloaded or reproduced in any way without our written permission. You may share photos using the tools provided in our galleries.

Edmonson Photography is based out the Dallas - Ft. Worth Metroplex, Texas.
Check Availability | 11134 Candlelight Lane Dallas, TX 75229 | (972) 208-0215