Wedding Photojournalism And Photojournalists
Once you start looking for wedding photographers, the term "journalist" starts popping up everywhere. The Bride's on the message boards you go to, talk about their incredible wedding photojournalist who captured their "Wedding Day Story". Sponsored ads flooded search engines with photographers advertising it as their style. So what does it mean exactly, and how do you know if it's right for you?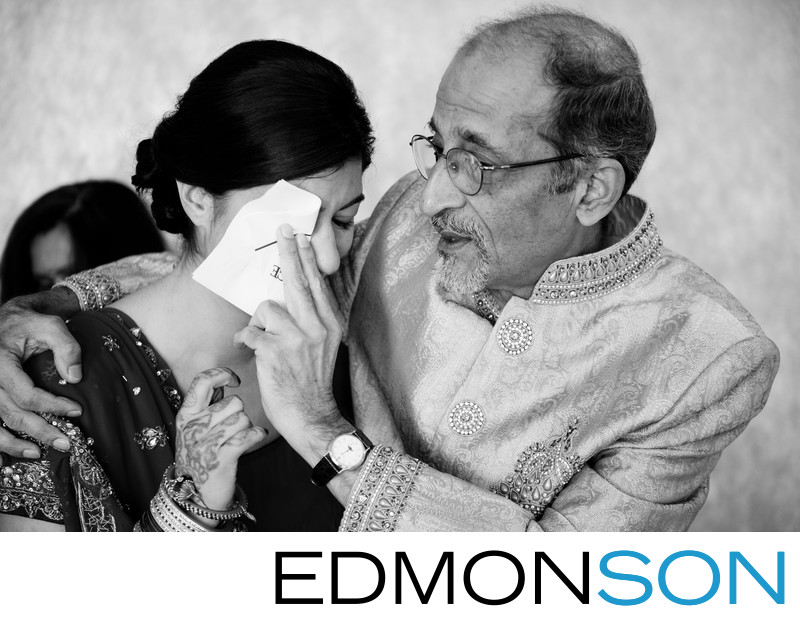 Origins Of The Wedding Photojournalist

Photographer, Dennis Reggie during his days at Tulane University worked for the yearbook as well as local newspapers. He used the same approach to telling wedding day stories and by 1987, the New York Times was declaring him "the hottest photographer of the moment."

It was Dennis who took the famous photo of John Kennedy Jr. kissing Carolyn Bessette's hand in 1996, which became the defining moment for the introduction of the term wedding photojournalism into the modern lexicon.

By the late 90's and early 2000's more and more experienced newspaper photographers were moonlighting as wedding photographers. Like any natural pendulum swing, as the movement gained popularity, more and more brides started seeking it and more magazines began to popularize it. The emphasis was moved away from the focus being a "perfect photo" toward capturing a "perfect moment."

Modern Wedding Photojournalism

It's harder to tell today who trained as a photojournalist and who simply uses it to describe their style. With the demise of newspapers and magazines, there are fewer actively working staff photographers. Combined with the increase of advertorial magazines, where they leverage the advertisers in their magazine to provide editorial content, simply being published doesn't show competency.

It's not a requirement to have a newspaper or agency background to be considered professional wedding photojournalist but it require training. There are many different ways to go about that ranging from apprenticeship to other forms of education.

What is important is to research the background of your potential wedding photographer and determine if they indeed possess the skill set or is this simply the term they use to cover apparent inadequacies within their photos. A perfect moment doesn't have to be a perfect picture, but it should be intentional and skillfully crafted.

Calling happy accidents, missed focus, bad lighting, lack of sharpness, detail or gesture "PJ" style may be the only way to hide their lack of experience, education, and quality. Looking through our galleries, you'll see both prompted and unprompted moments, portraits and expressions. What's most important is does it make you feel something when you look at them. Do you get a sense of the atmosphere and emotion? Is there a balance between showing a scene and eliminating any distracting details. A good PJ photographer knows exactly what to show and not to show in their images.

Our background is not as newspaper photographers but in shooting advertising and commercially for magazines for many years. While similar to an editorial style, it's helped us learn how to be part of a team and create something so show-stopping and compelling it stops a reader long enough to read the copy. We are considered to be amongst the top professional photographer in Dallas and our fields. A swift look at our background, accolades, and leadership cements our standing.

PJ, Traditional or A Blended Approach?

Which one is right for you? That ultimately depends on you and your fiancee's personality and how much you want your wedding day to be guided by your photographer. The best part is there is no wrong answer.
Here's some comparison highlights.
Wedding Photojournalism
Documentary approach to coverage
Captures magical moments in real-time
People are un-posed and not coached
Tells a "natural" story with their images
Actively looks for "hidden shots"
Less involved in planning
Editorial feeling a la People Magazine
Should be willing to work with a limited shot list
May shoot a larger number of shots to cover themselves
May or may not use additional or supplemental lighting
Traditional Wedding Photography

Directs their shot and guides people
Creates or prompts magical moments
Posing, backgrounds and styling noticed
Tells a "curated" story with their images
Grabs "hidden shots" in between set shots
More involved in scheduling
Magazine quality a la Vanity Fair
Willingly follows a pre-arranged shot list
Smaller number of photos taken because less volume required
Typically uses additional or supplemental lighting
As Wedding Photojournalists, What's Our Approach?

First, we try and learn a little about you. It's our belief that your wedding day is a sacred event between you and your fiancee. Most importantly, 21st-century weddings have changed a bit since your Parents and Grandparents were married.

As professionals, we don't want to direct your wedding day like a Circus Ring Master. It's important to us not to overshadow the precious moments you are sharing with your sweetheart, family, and friends. We want those to unfold in a natural way. We are aware that sometimes the most meaningful photos to your Grandparents or loved ones might be everyone in a line smiling at the camera. The most important thing is that your day doesn't fail visually.

We also know that great wedding photography is about beauty. And you want to look your best in your wedding photos. We shoot with the skill of a master and the empathy of a saint. Take a look through our wedding photography fellowship work and read about how each different life event has shaped the unique way we view the wedding day narrative.
We typically blend the styles of Wedding Photojournalism, Traditional along with others. We've learned the power of our voice, and the experience of 1000+ weddings has shaped our approach and philosophy. Most of all, we are completely flexible if you decide that you prefer more of one or the other because it's not about us, it's about you!
Working with a Wedding Photojournalist

The best shots occur when you are no longer conscious of the camera. That doesn't mean your Photographer is invisible, just that you are interacting with those around you in a natural manner laughing, crying, and being yourselves. In other words, you've stopped being camera aware. The best tip is that light is more important than location. If the quality of light is poor, the resulting work may suffer without addiitonal or supplemental lighting.

There will be times that you want a picture taken with someone in a more extemporaneous way like when your favorite Aunt from out of town stops by to see you in your dress, or your good friend stops you outside the church and gives you a giant hug.
Relationships are so important to us, and when that happens, we make sure to get those shots as they unfold. After all, it's what makes your wedding day narrative unique!
How Can Locations Affect My Pictures?

Shooting outdoors brings out nature's beauty. It also brings out nature's elements. A gently blowing breeze that catches your veil makes wedding photojournalists smile enormously. But it can also mess up the wedding hairstyle that you have spent countless time and resources getting it perfect.

We look to match our style with the comfort level and personality of each bride we are shooting. Are you more careful and cautious? Let's find a way to create within a climate controlled space. Are you carefree and loose? Then let's play and see if we can't catch some lightning in a bottle for ya!

What we don't want to do is give you one more thing to worry about on your wedding day. It's simply not worth the risk. Our job is to serve and making your event, your time with family and friends easier.

Copyright 2002-2020 David & Luke Edmonson All Rights Reserved.
All photographs and content appearing on this site are the property of the Edmonson's. They are protected by U.S. Copyright Laws, and are not to be downloaded or reproduced in any way without our written permission. You may share photos using the tools provided in our galleries.

Edmonson Photography is based out the Dallas - Ft. Worth Metroplex, Texas.
Check Availability | 11134 Candlelight Lane Dallas, TX 75229 | (972) 208-0215