Professional Wedding Photography
In her wedding photographer, as with her spouse, she's hoping to find many men. For the pinnacle days prefacing her new life, the bride wants an artist, a diplomat, a mind-reader, someone that both (or all) sets of parents will like, a creative genius, and a new friend. Oh, and she hopes to fall in love equally with the final photos and the fee.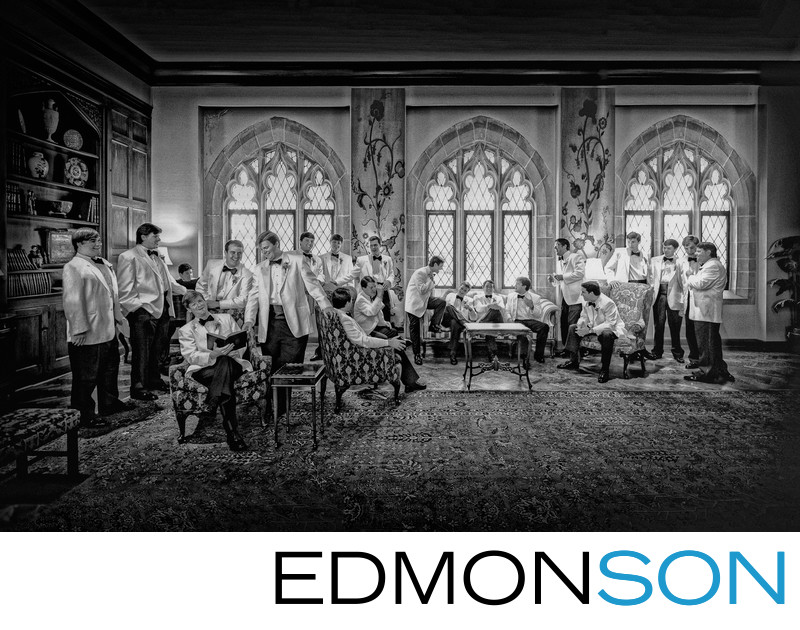 To that end, ladies, parents, everyone: she wants photographers David and Luke Edmonson.
As wedding photography specialists, we know what a bride wants as thoroughly as a bride-to-be knows thank you notes. Or will. For radiant portraits and show-stopping candids - framed in a level of service, you'll all miss when the wedding's over - we are your first and final wedding essential.
"Of course, I'll marry you, darling. The absolute next thing is to get the Edmonsons."
Your Engagement Photography
At some early point between the day, a woman gives a man her e-mail address and when she changes the names on her credit cards (or not), her fancy turns to thoughts of announcing her upcoming wedding with an engagement photo.
"Have your [engagement] photograph taken by a professional (a snapshot or amateur's efforts just won't make it). …More and more newspapers are now publishing photographs of the engaged couple together."
Letitia Baldridge's Complete Guide to Executive Manners
Your engagement portrait goes to society editor of local papers- yours, your parents' and grandparents- to publicly announce the good news. It will also occupy prime real estate in family living rooms. Done well, this first formal photograph will warmly remind you for years to come of the early magic that sparked your love and commitment.
Your Bridal Portraits
Brides traditionally posed for a formal full-length portrait shot in-studio and showing the bride in all her wedding regalia just as she will appear (except possibly for flowers) on her wedding day. The bride may frame this portrait as a gift to her parents, her husband, and her grandparents. Her maid of honor might want a smaller one of her best friend or relative in a double frame with a photograph of the entire wedding party on the other side. The groom may have wanted a smaller one for his office.

"Tell them dear, that if eyes were made for seeing Then beauty is its own excuse for being."
Ralph Waldo Emerson
Besides traditional bridal portraits, we are breaking ground in an exciting new category of bridal photography that blurs the line between photography and art. While bride's photos fill albums and family frames, these portraits delight brides, grooms, and families even as they stand alone as art.
Your Wedding Photography
Every wedding begins with pictures for posterity (and more than a few Christmas gifts that year from the newlyweds). The wedding party, the bridesmaids, groomsmen, flower girls, parents, in-laws… the photos are steeped in tradition, but we ensure that they are not cliché. We know the groupings, get to know your people and work quickly and seamlessly to capture the best of both.
Make a note of this: our stand-out strong suit is the comfort we create with everyone in your wedding party and hence the final quality in your photos.
"Let all thy joys be as the month of May, And all thy days be as a marriage day…"
To a bride, by Francis Quarles
But let us not forget those magic, fleeting scenes that weave throughout your wedding: heads leaned in to speak, a grandfather unconsciously resting against the groom's shoulder, the bride's parents sharing a quiet moment, old friends reuniting. Call it wedding photojournalism or simply candids: we have the eye for people - the spark, the human connections that define the spirit and love and new friendships blooming among of a bride and groom's family and friends.

"Whatever you do, use a professional to take your candid pictures. If a well-meaning friend or relative volunteers to assume the role of the official wedding photographer, he or she might make disastrous amateur mistakes. Also, when the photographer is socializing with family and friends and enjoying the reception, important pictures are not being taken."
Letitia Baldridge's Complete Guide to Executive Manners
Wedding Photography More Art Than Just Photos

Because it's your wedding…your dreams…your memories.
John Kennedy Jr. and Carolyn Bessette set the standard in one ephemeral moment on the church steps when the groom spontaneously kissed his bride's hand, and a shutter snapped.
Here's the truth: You get one chance for great wedding photos. One chance for an album that makes your heart leap from the first time you open it for the 150th time when your grandkids want to see what you and grandpa looked like.
And yet, and yet… your parents said something about a budget. Budget…budget… Oh, right: you have a budget.
Does that mean no wedding photography that presents like art? No photographs that capture not just the bride and groom at their best but all your friends and the families caught at just the right moment?
Or can everything you want fall within your budget? The answer is…
Yes. Yes, you can choose to invest in the best wedding photographers. Because we are all about providing transparent budgets and exceeding expectations. And your single shot at great photos will be a full photo album of prized memories.
Why do people choose us in the first place?
Most of our clients have seen our work for other brides and tracked us down. Or they saw us at work and liked our people skills. When we meet, they like our listening skills. Great photography is about more than a good camera and a good eye. They fall in love with our philosophy and approach to serving others.
Once you make the big decision, we make your photography decisions a piece of cake.
Brides love us because we make them beautiful…because we know just what it takes to shoot "family moments" of a lifetime…because we don't just take photos, we take care of your wedding-day memories.
Copyright 2002-2020 David & Luke Edmonson All Rights Reserved.
All photographs and content appearing on this site are the property of the Edmonson's. They are protected by U.S. Copyright Laws, and are not to be downloaded or reproduced in any way without our written permission. You may share photos using the tools provided in our galleries.

Edmonson Photography is based out the Dallas - Ft. Worth Metroplex, Texas.
Check Availability | 11134 Candlelight Lane Dallas, TX 75229 | (972) 208-0215